We - Summit Trading Company LLC – proudly announce that, we have pledged to represent as Goodwill Ambassador for Japanese Cuisine, along with the appointee, Mr. Shiro Ohkubo – our Managing Director and General Manager,by the Ministry of Agriculture, Forestry and Fisheries (MAFF), Japan.

| | |
| --- | --- |
| As the true sense of "Washoku" – Japanese food feeds both body and soul. The first character, 和 (wa), which means Japan or Japanese, also represents harmony, and the second character 食 (shoku) means food or to eat. Wa is considered to be the most traditional, indigenous, and important value in Japanese culture. As the name implies, Washoku blends each ingredient in a harmonious fashion and satisfies all of your senses. | |
In recognizing this unique Japanese tradition – Washoku- a social custom handed down from generation to generation that expresses Japanese people's respect for nature, UNESCO identified it as an intangible cultural heritage.

UNESCO has placed Japanese food on its Intangible Cultural Heritage list, as representing 'the traditional culinary culture of the Japanese people.' Japanese customs regarding food are based on the Japanese spirit of treating nature with respect.

We will earnestly continue to spread and promote this proud but humble tradition and culture of Japanese food tradition in UAE and abroad.

We are specialized to procure and supply the diverse range of fresh ingredients.We have the expertise to convey the exceptionally well-balanced and healthy dietary aspects of Japanese food. We have the resources to identify and procure the special seasonal items, which will represent each unique seasons of Japan.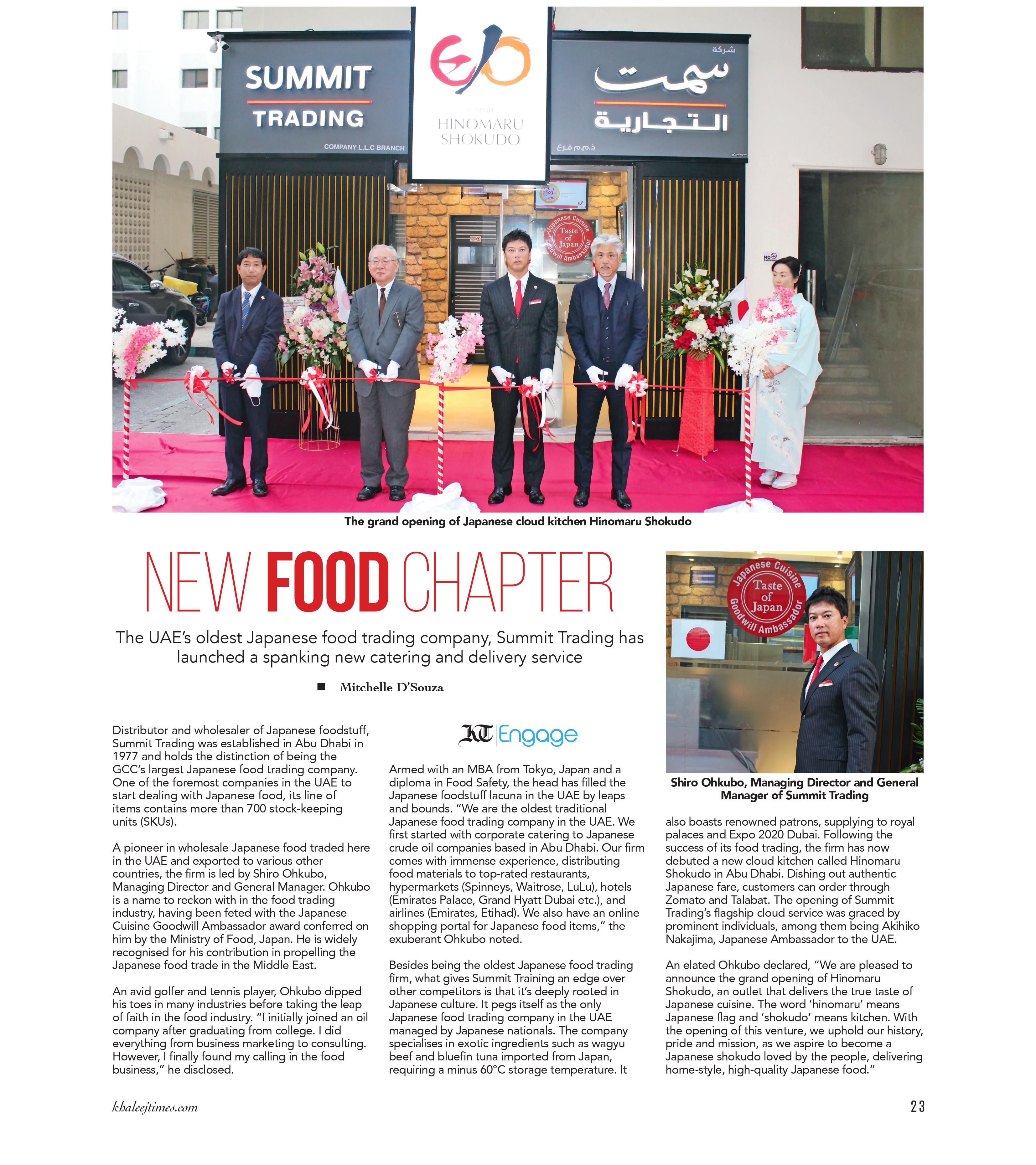 New Food Chapter-SHOKUDO-UAE's oldest Japanese food trading company, Summit Trading, has launched a new catering and delivery service for spanking. - Read More...